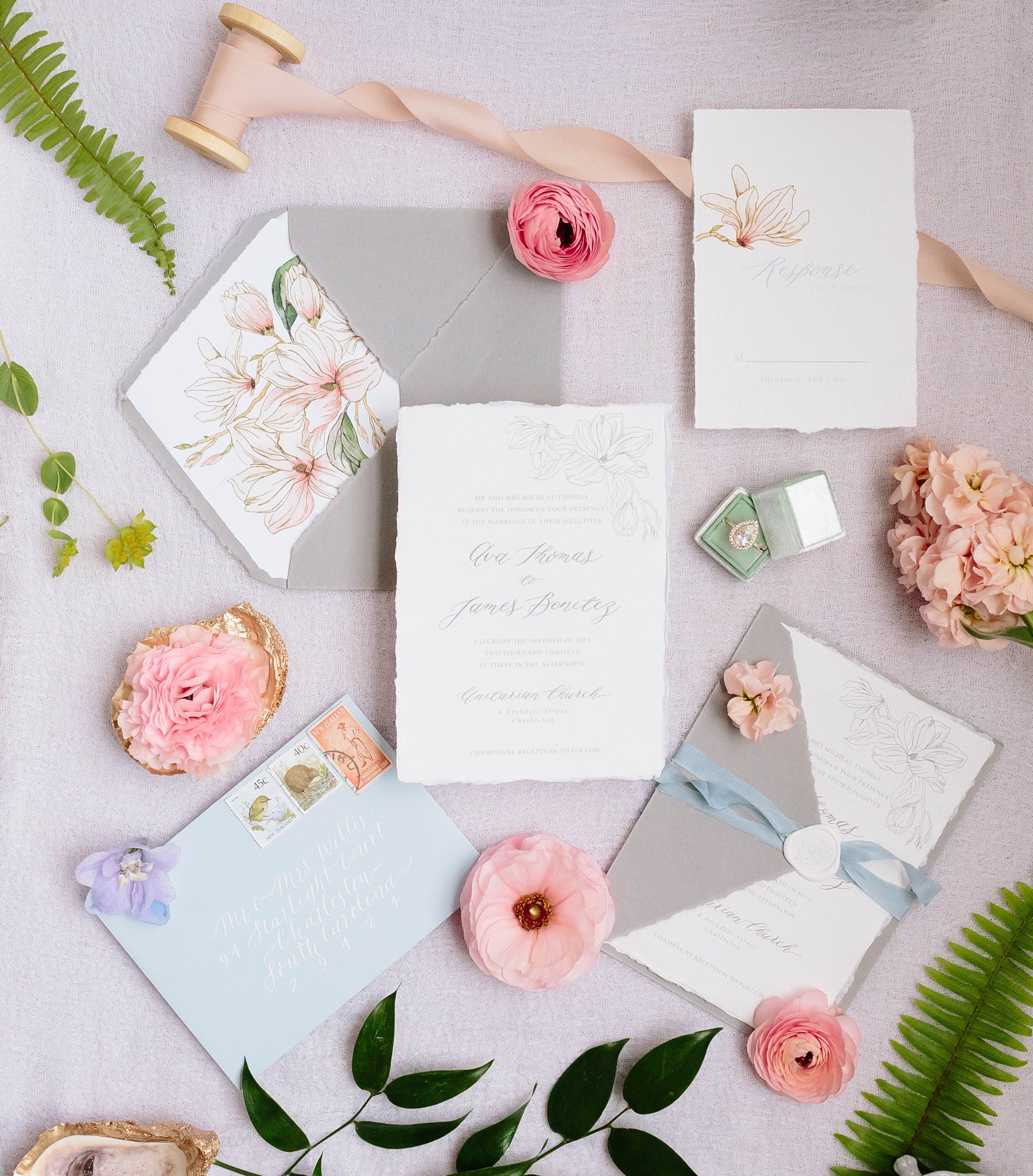 Vendor Feature | Inkberry Calligraphy
This weeks vendor feature is the lovely and talented Emma, from 
Inkberry Calligraphy
, known for her beautiful calligraphy and illustrations. Emma
loves creating beautiful stationery which uniquely reflects her couple's relationship. So b
e sure to head over to her
Instagram
 to see more of her creative designs. 
Pretty name tags paired with our silk ribbons for an added special touch.
Please introduce yourself and tell us what you do?
I'm Emma, and I'm a calligrapher so basically anything that can be lovingly lettered is what I do. I just love creating timeless pieces of art that become memories and family heirlooms. I mostly specialise in wedding stationery and I provide save the date cards, invitations, details cards through to on-the-day stationery such as place cards, table numbers, menus and signage. I also offer envelope addressing and handwritten guests' names on invitations.
How long have you been a designer?
I have been a calligrapher for many, many years. I loved doing calligraphy to relax but the last ten years has seen my passion grow into a full-time business.
How would you describe your style? 
My style is classic, elegant and romantic. I love muted tones and colours, the textures of silk and soft handmade paper, and sweet botanical illustrations.
Do you have a favourite design or stationery suite and why? 
My favourite design is my Magnolia Invitation Suite. I love watercolour painting and I especially love painting flowers.
The soft tones of the magnolia and the delicate calligraphy are feminine but the suite also has a strong side when paired with a bold claret envelope and offset with gold lettering.
How do brides go about ordering your services?
I love creating stationery which uniquely reflects my couple's relationship. So, as a first step, I like to get to know them a little better with a quick chat over coffee (my treat )
When we've decided on all the details, I'll then provide a quote based on their particular design details and a deposit will secure the booking. Then the fun part of designing the perfect stationery can start! It's a good idea to start thinking about stationery soon after the date has been decided and the venue booked.
It may seem early but your invitations need to go out 6-8 months before the wedding and getting your invitations done can take anywhere from 4-6 weeks.
Any advice on the wedding invitations/stationery process for couples? 
Have an honest talk to me about your budget and what you would like to prioritise whether it be the design, paper, silk ribbons or wax seals. I am happy to advise on how I can adjust the process to accommodate your
wishes without compromising on the beauty of the stationery. And ask as many questions as you need to along the design process. I'm here to help.
You're a new addition to the crayon box. What color would you be and why?
I would be a soft dusky pink. It's the colour of roses, love, and sunsets.
What's your guilty pleasure? 
When I'm not creating, you'll find me on the couch, binge-watching TV series on Netflix with a chilled glass of Prosecco.
What advice would you give your 16 year old self?
Be brave. Just put yourself out there and don't hide your creativity. You don't have to be perfect to start because your creativity will just continually evolve and develop along your journey.
What is your hidden talent?
I am the world's best vanilla cupcake baker