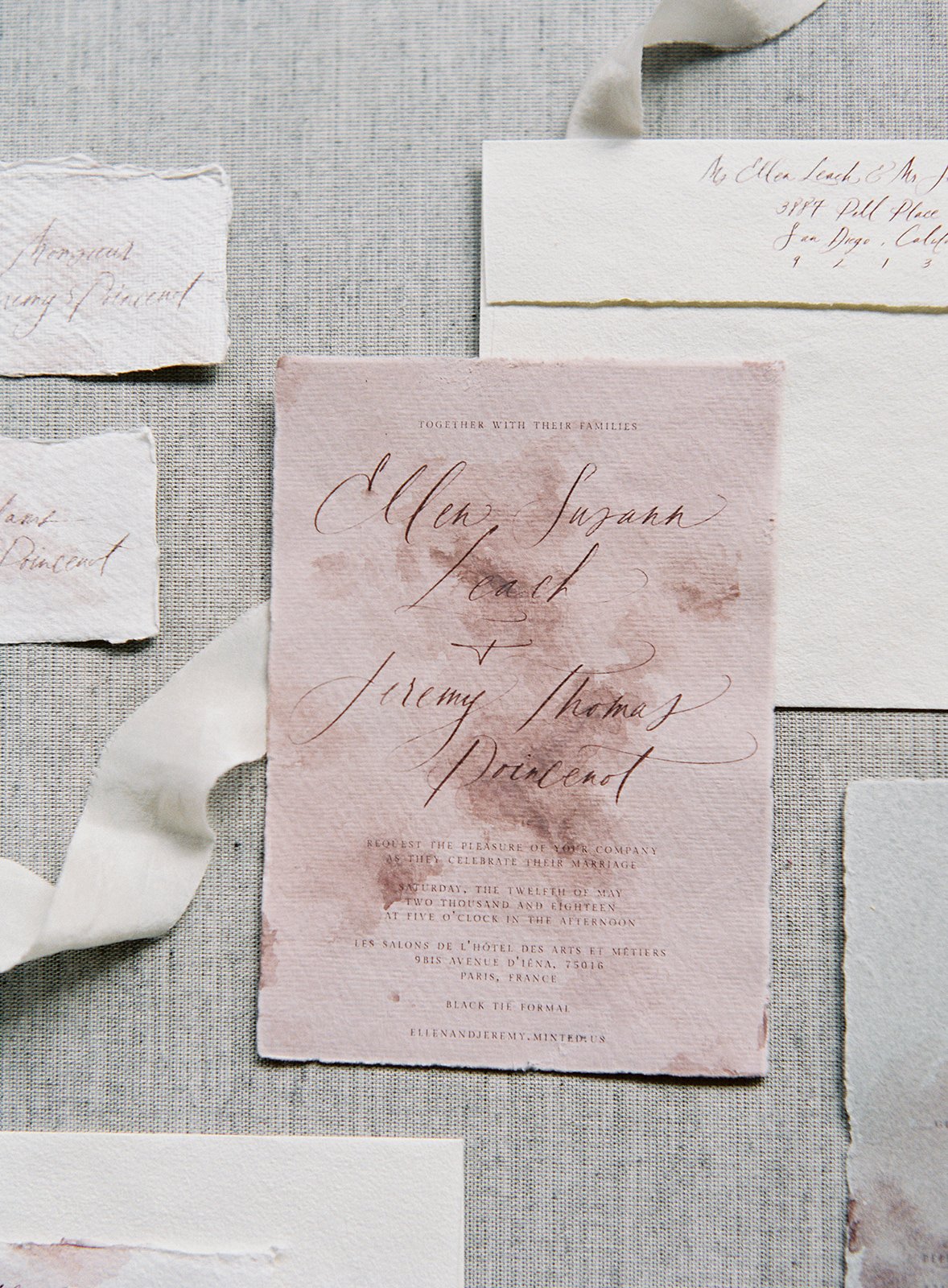 Vendor Feature | Julie Ha Calligraphy
Meet Julie Ha, the ever-talented designer behind 
Julie Ha Calligraphy and Design
. Specializing in organic and fine art calligraphy for the modern day bride, we've had the pleasure of speaking with Julie to find out more about her background and creative process behind her beautiful designs.
Please introduce yourself and tell us what you do?
My name is Julie Ha and I'm a graphic designer/modern calligrapher from Northern Virginia. 
How long have you been a designer?
I started designing when I was in high school and it followed me through university. I studied Studio Art with a concentration in Graphic Design at James Madison University. As a calligraphy artist, it all began with my engagement. I wanted to design my own wedding suite and practiced calligraphy so I could do the lettering on the invitations. I immediately fell in love with the written art style and couldn't stop ever since.
How would you describe your style? 
For both my watercolor wash and lettering style, my art aesthetic is organic and free-flowing. I love painting and writing letters with lots of movement. I imagine the wind and the ebb and flow of the ocean as I create and try to mimic those movements and motions whenever I design a new custom piece.
Do you have a favourite design or stationery suite and why? 
I do and it's the dark and moody suite I created for Luna de Mare's Carondelet Editorial (Image 04). My favorite colors are neutrals, especially black and white. It's an older suite but it's forever my favorite due to how it combines all of my favorite things: watercolor wash, flowing lines, and modern type mixed with calligraphy. 
How do brides go about ordering your services?
Brides can get in touch with me using the contact me form on my website. By answering the questionnaire, it'll give me a better handle on what services the bride is interested in for their wedding. I will typically respond within 2 business days to connect and speak to the bride about their vision.
When we set up a consultation, 
the bride and I will talk about what their looking for in regards to specific style and look for their stationery. This will include color scheme, aesthetic (watercolor wash, spot calligraphy, typefaces), types of paper, and speciality print.
For scheduling a designer or calligrapher, my recommended schedule is:
6-12 Months before wedding: Save the Dates are created and mailed to wedding guests
4-6 Months before wedding: Wedding invite suites are created and ordered
8 Weeks before wedding: Mail out Wedding invites to guests
5 Weeks before wedding: RSVP due date
1-3 Months after wedding: Create thank you cards and mail them to guests
Any advice on the wedding invitations/stationery process for couples? 
Start early. A stationers schedule can book up quickly and most brides book stationers a year in advance to hold the designer's spot on their schedule. Be proactive with feedback. Once a draft is sent out, the bride should respond with edits and feedback so it doesn't delay final production. Always triple check names, dates, and wording. Again, it's to make sure the best final product is sent out and all of the designs are created and worded properly.
Consider the cost. A custom wedding suite will generally cost much more than a semi-custom design. The designs are built up from scratch and the add-ons (type of paper used, type of printing, ribbons, wax seals, hand addressing) can all increase the overall price. 
You're a new addition to the crayon box. What color would you be and why?
A storm blue-gray crayon. My heart and soul loves the moody tones of a storm---the overhanging heavy clouds, the wind and air moving through the sky. It all draws me in and inspires me to create art reflecting the nature I love.
What's your guilty pleasure? 
Coffee. If I could have it as an IV drip, I probably would!
What advice would you give your 16 year old self?
Travel more. See more. Draw more. When I was younger, I considered a career path in architecture. I love classical buildings and drawing architecture. I wish I could've traveled more, especially to Europe, to see the buildings I studied in books. I would tell my 16 year old self to travel to different countries and sketch the old world charm of these cities and places.
What is your hidden talent?
Not sure if this constitutes as a talent but I always wake up when a door is opened. I won't wake up to other sounds but if a door is opened or closed, I immediately open my eyes and am alerted from the noise (even if it's all the way in the basement)!