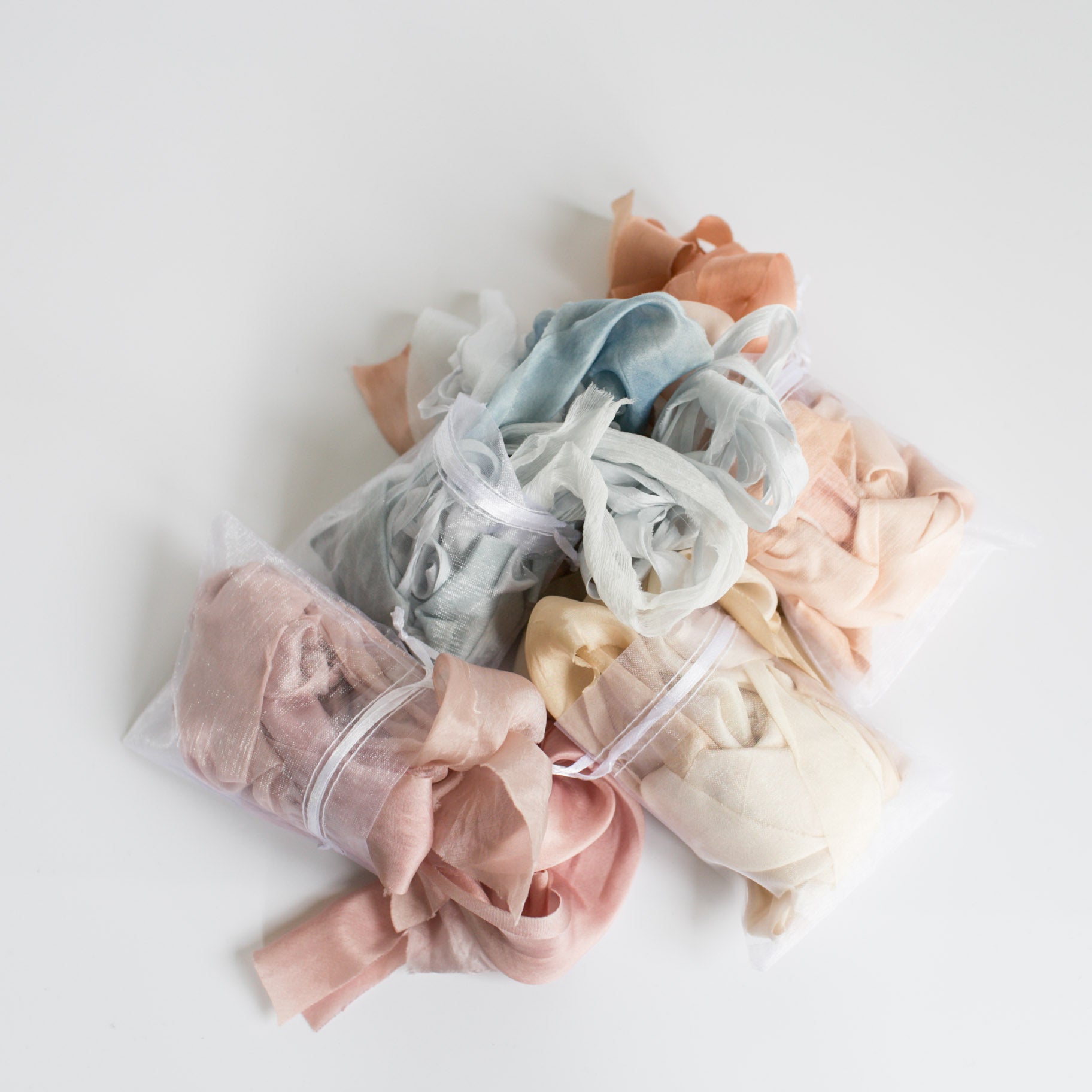 OFF CUTS/ REMNANTS SAMPLE BAG
Amazing value and the perfect way to experience our colours and variety of silks! 
This little collection consists of random off-cuts and samples with each ribbon varying in size and length (anywhere from 11 inches to 1 yard/30cm to 1 metre) - perfect for flat-lays, crafting, styling projects and some are long enough to tie around bouquets. Please note that colours vary with each pack and we are unable to label the colours as these change with each batch. 
PLANT DYED
Because these are dyed using plant matter, there may be unique random markings on the fabric. This is the nature of nature! When making up the colors, we use the same measurements, however variations will occur depending on the variety of our materials. You really are purchasing a one of a kind, truly special ribbon with so much love (and time) put into each batch.  Bias cut is ribbon or "tape" that has been produced by cutting directly from bolts of fabric diagonally along the bias. The result is a beautiful and flexible ribbon that drapes and stretches nicely making it the perfect wedding accessory for bouquets, stationery, cutlery, chairs etc. Bias silk ribbon has a seam every 1 or so metres, as this is how it is constructed. The edges are unfinished, but will not unravel. You can however create a soft frayed look by running your fingers very slightly on the edges.

SHIPPING
Our goal is to ship/process all orders within two business days however please bear in mind this is not a guarantee - as sometimes we have so many orders to dispatch and with only one person doing this, it's just impossible. Delivery time is in addition to this. Please read further shipping information (below) so you are not disappointed. Also this does not apply to custom jobs, we will advise you of timeframe based on the job so please get in touch directly if you require a custom order. Thanks so much.