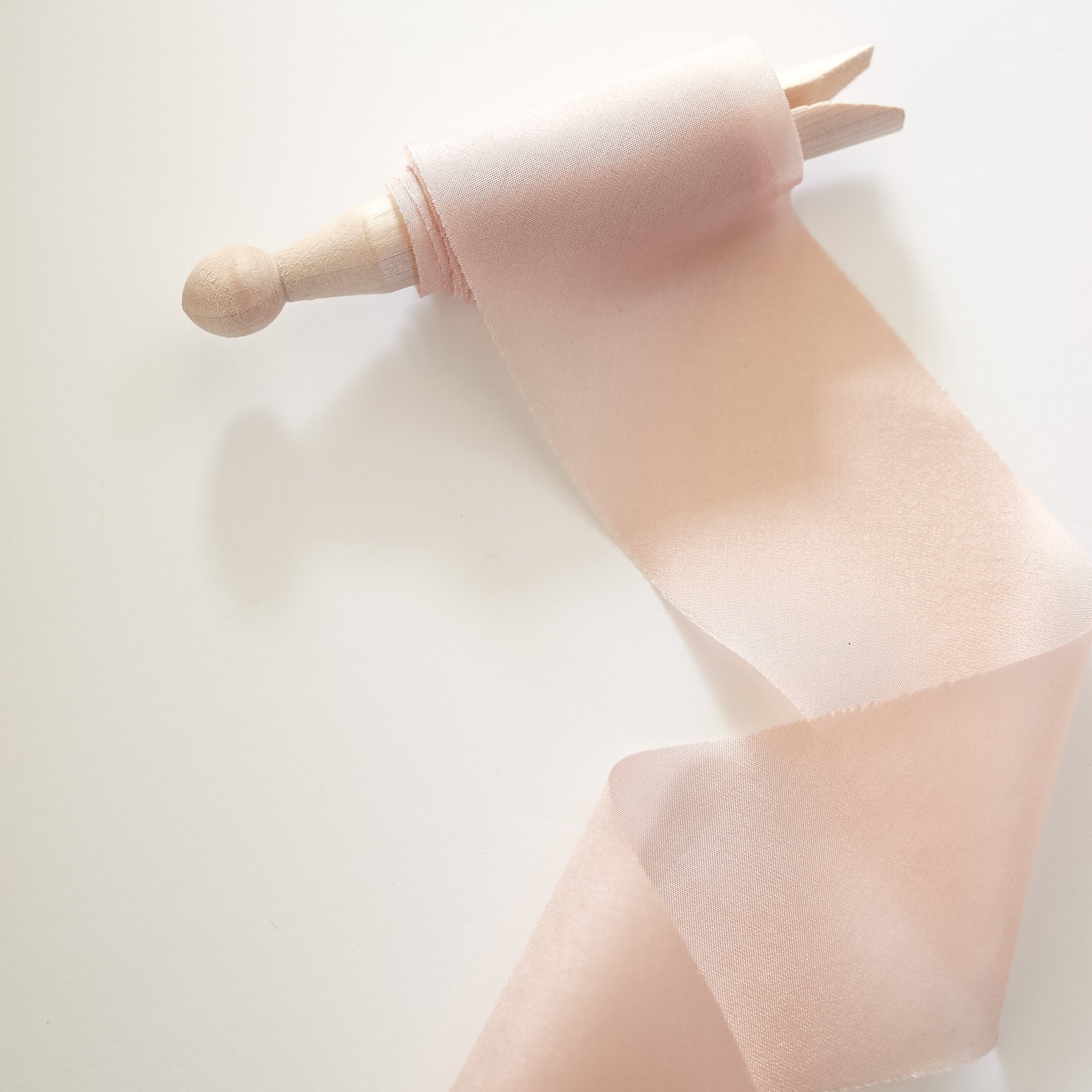 Blush - you just can't go wrong with this colour. Pairs beautifully with our Ash Rose ribbon as pictured.
SHIPPING
Our goal is to ship all orders within two business days however this is not a guarantee as sometimes we have so many orders to dispatch and with only one person doing this, it's just impossible. Delivery time is in addition to this.  This does not apply to custom or print jobs, we will advise you of timeframe based on the job, so please get in touch directly if you require a custom order. 
Habotai, Satin, Tabby or Tussar - what's the difference?
The differences between each silk type lie in their weight, sheen and texture.
Habotai and Tabby silk are lightweight, with Habotai silk having a subtle sheen. Tabby is also softer and more delicate than Habotai. 
• Satin silk is known for its high sheen and luxurious drape. Note that one side is sheen and the other is Matt.
• Tussar silk has a more textured feel. 

PLANT DYED 
All our silk ribbons are hand dyed using natural and local plant materials resulting in random unique markings throughout the ribbon. This is the beauty and nature of nature. Bias cut is ribbon or "tape" that has been produced by cutting directly from bolts of fabric diagonally along the bias. The result is a beautiful and flexible ribbon that drapes and stretches nicely making it the perfect wedding accessory for bouquets, stationery, cutlery, chairs etc. Bias silk ribbon has a seam every 1 or so metres, as this is how it is constructed. The edges are unfinished, but will not unravel. You can however create a soft frayed look by running your fingers very slightly on the edges. 

COLOURS
All our ribbons are photographed in natural light however the colour may not be exactly what you see on your screen (we try our very best to match the true colour). There is also subtle colour changes with each ribbon depending on the light - which makes them even more stunning!