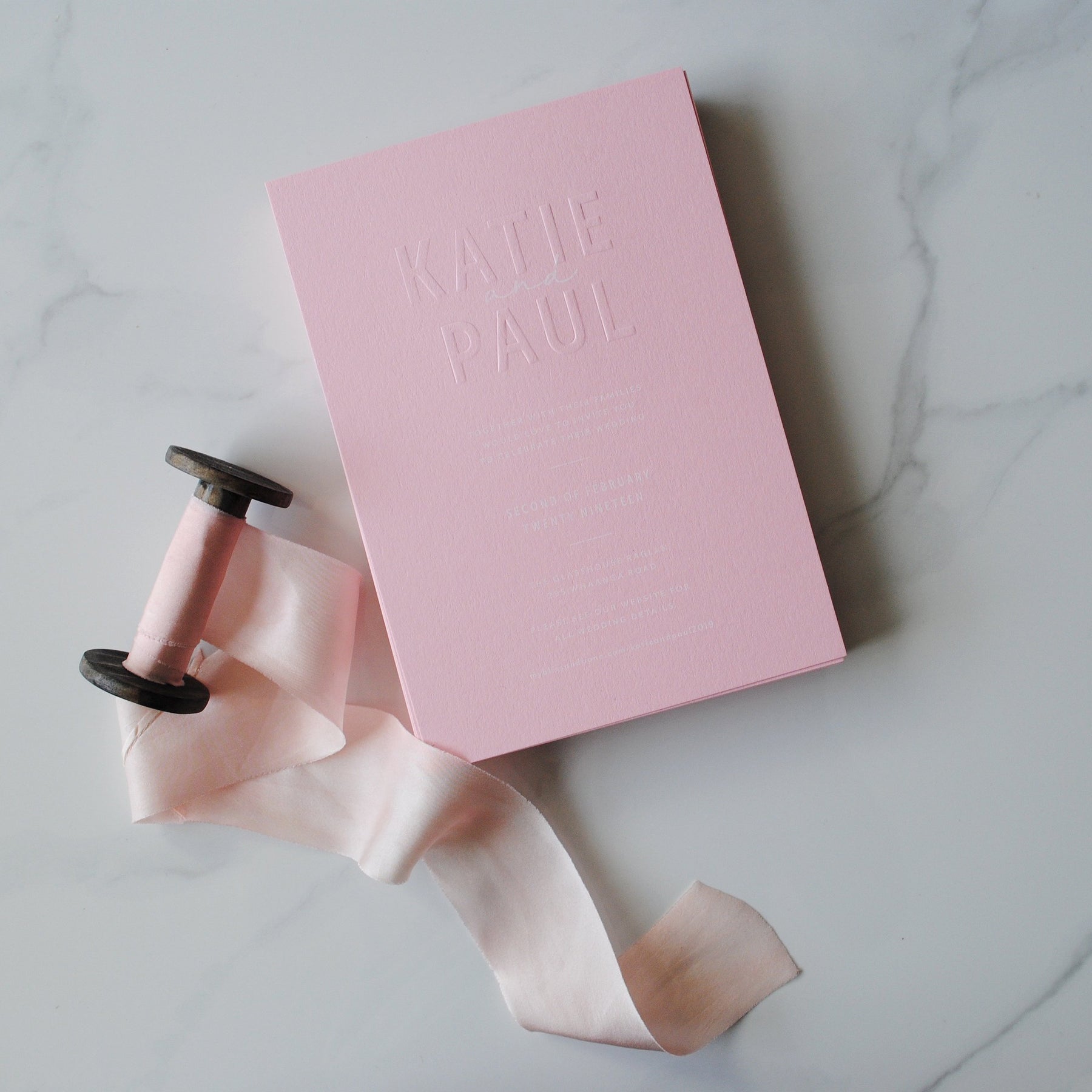 Vendor Feature | Harlan Creative
Next up on our vendor feature; we have the creative director, Jordan, from 
Harlan Creative
, specializing in luxe stationery, signage, branding and more. We love her work and we think you will too - be sure to check her out on
Instagram
and show her some love!
Featuring our silk ribbons.
Please introduce yourself and tell us what you do?
My name is Jordan and I am the creator and soul behind Harlan Creative. I have been in business for approximately 8 years now - initially starting as a general

design studio. 5 years ago I took on my first wedding client and been creating bespoke wedding stationery and signage for couples the world over. It has been a real labour of love - I live and breathe weddings, and have even had a role as an event stylist. I have such a love for what I do and find it such a blessing to work on my passion day in, day out.
How long have you been a designer?
Straight out of high school I did a design degree at Massey University - graduating with 1st class honours, from there I landed my first junior creative role with a big wig international design agency. I got to work on some pretty amazing brands such as Cadbury, Nestle, Lion Breweries, the list goes on! I was so proud to see my designs on supermarket shelves. With the birth of my first child, I decided full-time work wasn't for me, so began my own business and haven't looked back since. I would say I have been designing for about 12 years now!
How would you describe your style? 
In a nutshell - modern, clean and minimalist. I like to create stationery that is a bit out of the box, and so fortunate to work with couples that prefer something that is a little edgier than traditional norms. 
Do you have a favourite design or stationery suite and why? 
I can't pick! They are all so varied and unique in their own ways. But I get really excited when I get to experiment with different card stocks, colourways and printing processes. Anything that breaks the traditional mould really! I'm really excited about a suite I am working on at the moment, this is going to be the mother of ALL stationery suites that I have designed.
How do brides go about ordering your services?
The longer the lead time the better! I tend to get booked up pretty quickly, with some couples even booking years in advance. Best thing to do is get in touch, any examples of stationery you have seen previously are always great to send through so I can get a feel for the kind of look I am creating. All my designs bespoke, so there is no additional fee for creating something unique. I don't tend to create off the rack as I want to design stationery that is completely special for my couples. As a guide, I say Save the Dates send out a year before your big day, and invitations 3 months out. There are no hard and fast rules, but generally the longer the better! In terms of design time, allow at least a month to get these created - I do provide a priority service if couples are needing sooner!
Any advice on the wedding invitations/stationery process for couples? 
Stationery really sets the tone for your big day, so always be careful and considered when thinking about what kind of stationery you would like. Invitations flow through to your theme on the day, so thought really needs to go into colours, and the aesthetic you are trying to achieve. 
You're a new addition to the crayon box. What color would you be and why?
Black. Purely because this is my favourite colour and its so effortlessly chic. Its classic, its minimalist. Its me and practically 70% of my wardrobe.
What's your guilty pleasure? 
Candles and fresh flowers. Nothing better than fresh floral and the scent of a fragranced candle in your home. Would also have to say travel! Have only really started travelling the last 3 years (after the passing of my partner). There's something about experiencing different cultures that gives such a sense of rejuvenation and perspective. I have a trip booked to Europe and I cannot wait.
What advice would you give your 16 year old self?
The sky is the limit. Have a goal in mind and go for it! Don't be held back by anything else. Oh and buy the shoes.
What is your hidden talent?
This one is hard! Besides the obvious of being creative I would say I am pretty self aware, but a lot of past experiences and work to get to this point. I always try to act with integrity and 
honesty, in all and everything that I do.