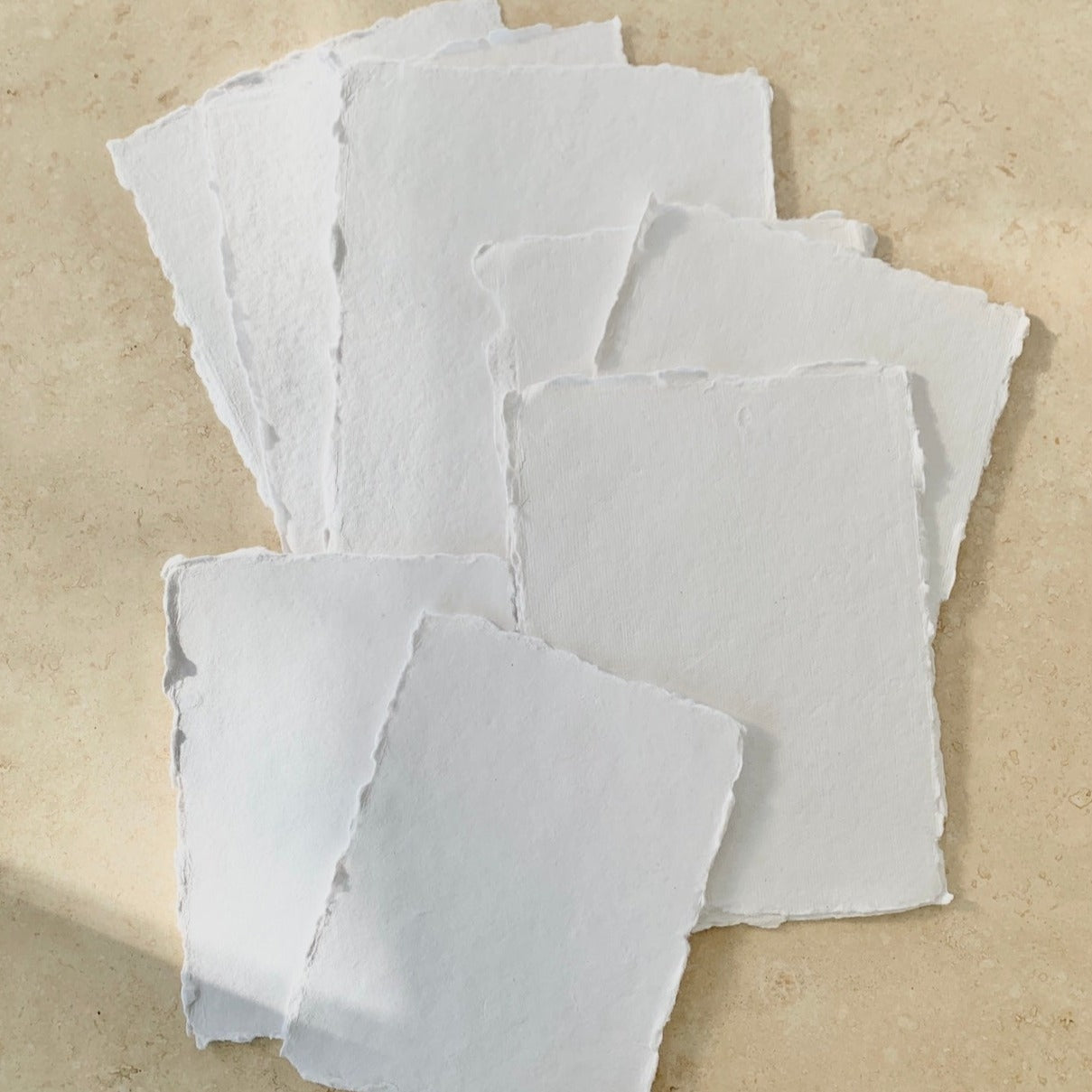 Discontinued - BLEMISHED Cotton rag paper
Blemished stock available at 25% off our normal retail price.
Made from 100% cotton rag with a raw deckle edge finish with some imperfections - odd creases, subtle random marks. This is not like our standard paper, it is thicker in weight, and has more of a smooth texture (not as feathery). 
For perspective, in the last product pic, the paper on the right is the blemished paper, on the left is our standard cotton rag.
This paper can be printed on with most home printers with the correct paper settings.
SIZES AVAILABLE: - 

Sold in 10 and 25 packs.
Large (21cm x 14.5cm // 8.2inches x 5.7inches) - 250gsm 
Medium (17cm x 13cm // 8.2inches x 5.7iches) - 250gsm
Small
 (15cm x 11cm //  5.9inches x 4.3inches) - 250gsm
Color: White/off White
Medium texture with deckled edging. 

Handmade: Due to the handmade nature of our products you may find differences in texture and weight with some of the pieces. Most of the pieces in our batches are very similar but there may be odd pieces where weight, texture and colour are not quite the same.
Returns: Returns are no
t accepted on handmade paper. 
**IMPORTANT** SHIPPING OPTIONS
Our goal is to ship/process all orders within two business days however please bear in mind this is not a guarantee - as sometimes we have so many orders to dispatch and with only one person doing this, it's just impossible. Delivery time is in addition to this. Please read further shipping information (below) so you are not disappointed. Also this does not apply to custom jobs, we will advise you of timeframe based on the job so please get in touch directly if you require a custom order. Thanks so much. 

'Standard' shipping is tracked when possible and can take up to 10 working days. Once it leaves our studio, it is out of our hands and we cannot take responsibility for lost or delayed mail and cannot provide a refund for this reason.
Please double check your delivery details and address is correct, and note that you are responsible for any customs duty or taxes incurred on international orders. Thanks