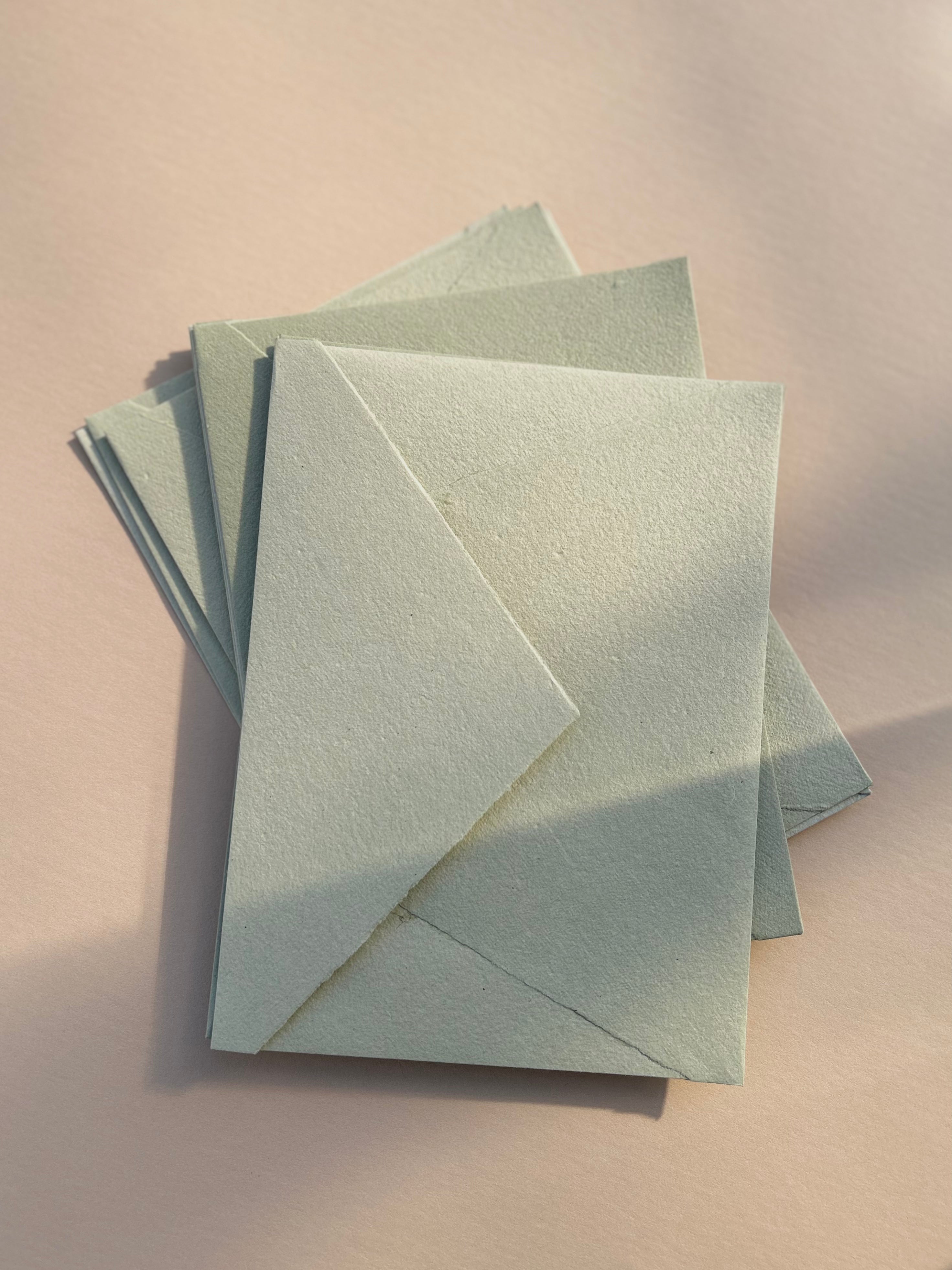 Sage Deckle Edge Recycled Envelopes
Introducing our recycled envelopes in a light shade of Sage.
The texture is smooth and is suitable for printing. In regards to calligraphy work, most have had great success with it and others not so much, so we HIGHLY suggest purchasing our sample pack for testing. 
*If item is out of stock, please get in touch to pre-order.
Sizes available: 
C6:  6.4" x 4.5" (162mm x 114mm) - to fit our A6 paper
7.55" x 5.5"  (190mm x 139mm) - to fit our 5x7" paper
C5: 9" x 6.4" (229mm x 162mm
) - to fit or A5 paper
*Please note the envelopes are not pre gummed, so to keep the envelope flap down, you'll need to use wax seal or glue.
Sold in packs of 10 and 25
Handmade: Due to the handmade nature of our products you may find differences in texture and weight with some of the pieces. Most of the pieces in our batches are very similar but there may be odd pieces where weight, texture and colour are not quite the same.
Returns: Returns are not accepted on handmade paper. 
If you would like to see examples of our paper printed - please head to our instagram account. Suitable for printing with inkjet printers however because of the deckle finish (not completely flat) you may still find subtle ink stains on the edges - depending on your printer. We also cannot guarantee that all printers accept this paper easily so please purchase a sample pack for testing as we don't provide refunds based on this. 
**IMPORTANT** SHIPPING OPTIONS
Our goal is to ship/process all orders within two business days however please bear in mind this is not a guarantee - as sometimes we have so many orders to dispatch and with only one person doing this, it's just impossible. Delivery time is in addition to this. Please read further shipping information (below) so you are not disappointed. Also this does not apply to custom jobs, we will advise you of timeframe based on the job so please get in touch directly if you require a custom order. Thanks so much. 
'Standard' shipping is tracked when possible and can take up to 10 working days. Once it leaves our studio, it is out of our hands and we cannot take responsibility for lost or delayed mail and cannot provide a refund for this reason. 
Please double check your delivery details and address is correct, and note that you are responsible for any customs duty or taxes incurred on international orders. Thanks