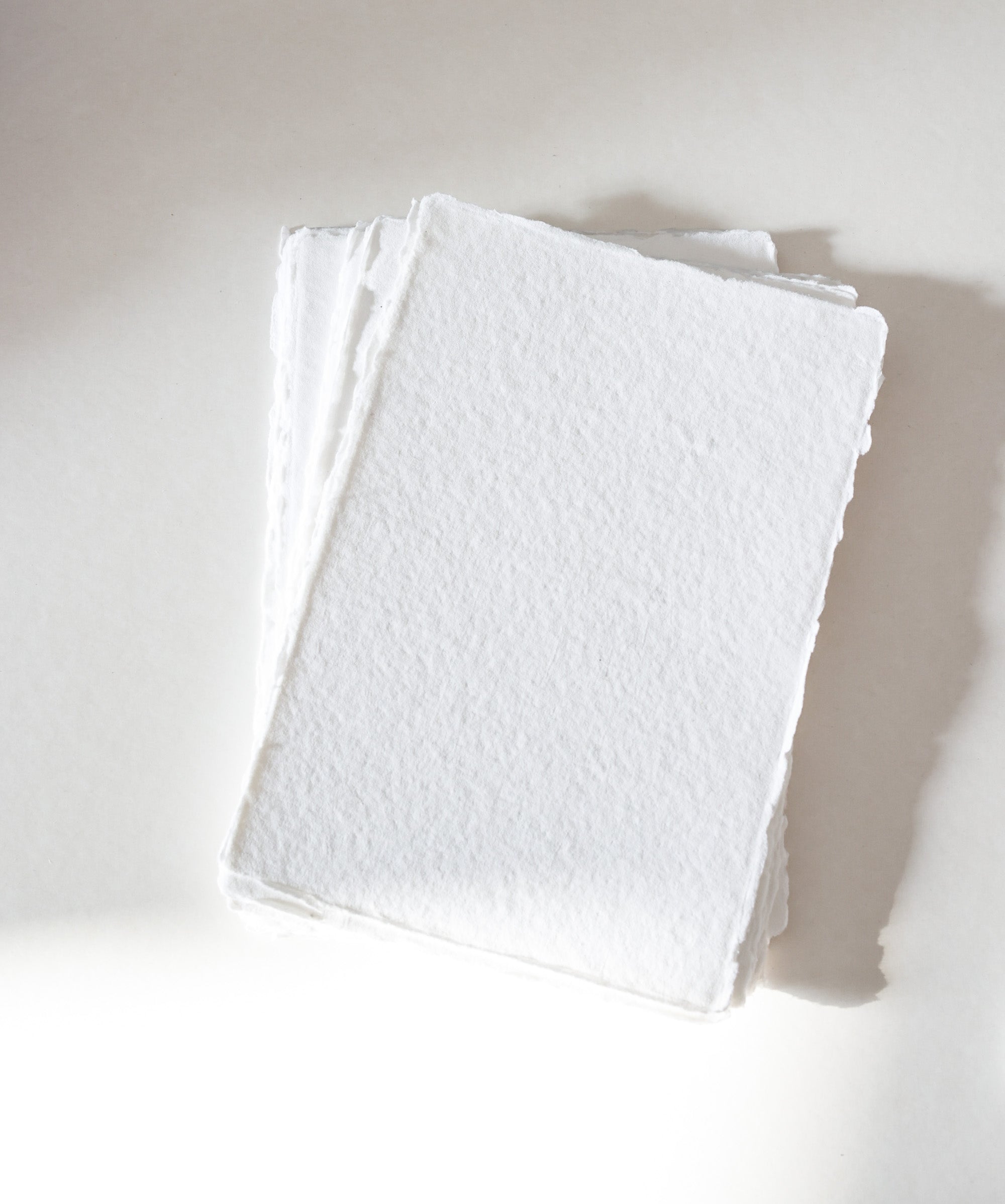 White Cotton Rag Deckle Edge Paper
Beautiful handmade paper crafted from 100% cotton rag with a gorgeous deckle edge finish, perfect for high end wedding invitations, save the dates, rsvps and other wedding details. Its soft, delicate texture absorbs colors effectively, producing a muted finish with a matte appearance.
Sold in 10 and 25 packs.
*If item is out of stock, please get in touch to pre-order.

Printing service is available on paper sizes A6, A5, A4 and 5x7".
Please send us an email for a custom quote. We recommend 250gsm for letterpress.

If you would like to see examples of our paper printed - please head to our instagram account. Suitable for printing with inkjet printers however because of the deckle finish (not completely flat) you may still find subtle ink stains on the edges - depending on your printer. We also cannot guarantee that all printers accept this paper easily so please purchase a sample pack for testing as we don't provide refunds based on this.

https://www.instagram.com/p/BWtqOgxnoCX/?taken-by=feathersandstone
https://www.instagram.com/p/BZ7fjVDH7DL/?taken-by=feathersandstone

SIZES AVAILABLE:

Place cards: 2.5x3.5" (64 x 97mm) 250gsm
A7: 3"x4" (74 x 105mm) 150gsm
A6: 4.1" x 5.8" (105 x 148mm) 150gsm, 250gsm and 300gsm
A5: 5.8" x 8.2" (148 x 210mm) 150gsm and 250gsm and 300gsm
A4: 8.3"x11.7" (210 x 297mm) 150gsm, 250gsm and 300gsm
A3: 11.7" x 16.5" (297 x 420mm) 150gsm
5"x7" (127 x 178mm) 150gsm, 250gsm and 300gsm
3.25x4.75 300GSM
3.75" x 5" (95 x 129mm) 150gsm
4.4" x 5.5" (112 x 140mm) 150gsm
DL Menu: 3.94" x 8.27" (100mm x 210mm) 250 and 150gsm
4" x 9.25" (100 x 235mm) 150gsm
3"x 4" (74 x 105mm) 150gsm
5.8"x6.9" (147 x 175mm) 300gsm


Color: White/off White
Medium texture with deckled edging.

Handmade: Due to the handmade nature of our product, the pieces in our batches may vary slightly in weight, texture and colour which also produces slightly different results in the printing (slight colour, contrast and saturation shifts).

Returns: Returns are not accepted on handmade paper.

**IMPORTANT** SHIPPING OPTIONS
Our goal is to ship/process all orders within two business days however please bear in mind this is not a guarantee - as sometimes we have so many orders to dispatch and with only one person doing this, it's just impossible. Delivery time is in addition to this. Please read further shipping information (below) so you are not disappointed. Also this does not apply to custom jobs, we will advise you of timeframe based on the job so please get in touch directly if you require a custom order. Thanks so much.

'Standard' shipping is tracked when possible and can take up to 10 working days. Once it leaves our studio, it is out of our hands and we cannot take responsibility for lost or delayed mail and cannot provide a refund for this reason.
Please double check your delivery details and address is correct, and note that you are responsible for any customs duty or taxes incurred on international orders. Thanks