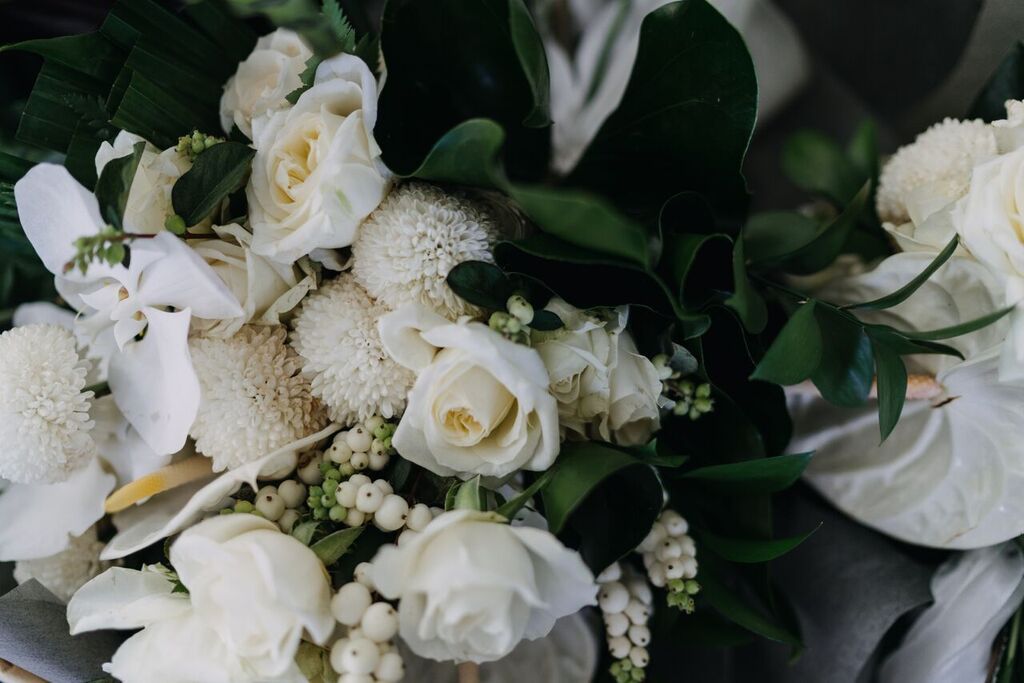 Vendor Feature | Lunar and Fox
Introducing the lovely and talented Aleks from
Lunar and Fox
; specializing in beautiful bespoke bouquets and floral design. Working wonders through the art of nature, we love her creations and all of the details that goes into each bundle. Be sure to check out 
@lunar_and_fox
 on 
Instagram
 to see more from this talented florist.
One of Aleks' many beautiful bouquets, tied perfectly with our silk ribbon.
Please introduce yourself and tell us what you do?
My name is Aleks Talia and I'm a florist from South West Sydney, Australia. Floral design is my ultimate form of expression and creativity.  Everywhere I look I see art, but I must say flowers are the real deal for me! The colours, shapes and textures really inspire me in my field of work.  
How long have you been a florist?
I'm still a newbie to the industry, I've been a florist for just under two years now!
How would you describe your style?
I would describe my style as full, lush, romantic, and personalised. I love creating magic that brings forth emotion from each and every bride I create for. One of the many reasons why we make sure each and every one of our bouquets captures not only our essence but the brides as well.  
Do you have a favourite flower or floral combination and why?
Handsdown favourite flower would have to be the bearded iris. There's just so much to look at from all angles, mesmerised every time!
How do brides go about ordering your services, (what's the process, how much time should they allow etc)?
I believe the whole wedding process should be personalised and tailored to each and every one of our brides which is why we love a good face to face consult. It's a chance to really get to know the bride and go through all the fine details (plus who doesn't love a good coffee and wedding chat). It is always ideal to book 6 months prior to the big day, but as of late we have been booking weddings over a year in advance. Which is so flattering, there is nothing more satisfying than a bride who is so determined to have you create magic for her on her big day!
Any advice on choosing flowers/floral arrangements for couples getting married?
Don't be afraid! Pick colours that make you happy, styles that showcase your personality and an overall mood/vibe which reflects your relationship. Flowers are such an important part of a wedding (totally not being biased), they're with you all day, and are captured in most of your photos, make sure they are true to you and your partner. If you're a sentimental person perhaps request a fragrant flower that reminds you of your special day each and every time you smell it in a perfume, on the street, or in a flower market. 
You're a new addition to the crayon box. What color would you be and why?
Hmmmm, this is a tricky one. I would have to say mustard. I just think it's so versatile and adaptable. You can pair mustard with a dark and moody tone or brighten it up with a light, pastel, fresh colour. Just works in so many ways!
What's your guilty pleasure? (could be food, music, tv show, etc)
My guilty pleasure would definitely be reality TV. Bring on Geordie Shore, Ex on the Beach, Floribama Shore and Jersey Shore (pretty much anything produced by MTV and ending in Shore). 
What advice would you give your 16 year old self?
Become a florist and get into a field you love! I was a high school English teacher before a florist and spent a number of years studying and teaching before my passion for floristry bloomed (excuse the pun). It is something I definitely wish I did earlier, listen to your gut, if it tells you to do something, just do it.
What is your hidden talent?

Make-up, I have no talent when it comes to painting on paper or canvas, but absolutely love painting faces. A creative outlet that isn't so physically demanding.